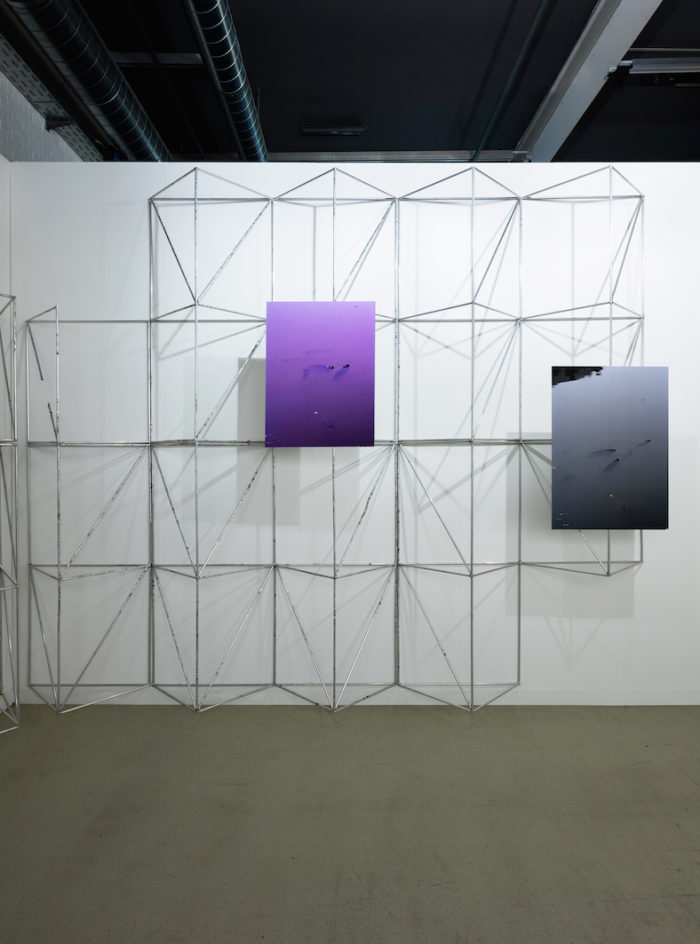 2017
Installation consisting aluminium structure and two C-Prints, mounted on aluminium
Structure: 320 x 400 x 38,5 cm

Exhale: C-Print, mounted on aluminium
84 x 63 x 0,4 cm

Inhale Again: C-Print, mounted on aluminium
94,5 x 65,5 x 0,4 cm
'Coral Sea As Rolling Thunder' (2017) installation for Art Basel Statements traces how rapid economic growth, communication and exchange alters subjecthood in contemporary Vietnam.
Tieu has further shot a series of photographs in response to the environmental incident, which occurred in 2016, when Formosa Plastics Group released toxic chemicals into the ocean, where Tieu during this time shot her video work. Across the installation – ranging from the three photographs Inhale, Exhale, Inhale Again (all 2017) hung on melted aluminium bars and a LED sculpture installation – Tieu expands on the exploration of the fragility of the body, singling out details of the daily exposure to pollution. The sculptural LED work shows the marine weather forecasts for the South China Sea, an area in front of the Vietnamese coastline that is currently claimed by China and where Formosa's toxic spill occurred. In these weather forecasts Tieu investigates unforeseeable influences causing humans and environments to adapt, alter and self-repair. Underpinning the installation, the modified aluminium structure, reminiscent of this observation, references architectural design and the organic body equally, thus pointing out the interactions and crossing lines between corporate and individual responsibility, private and public sectors.