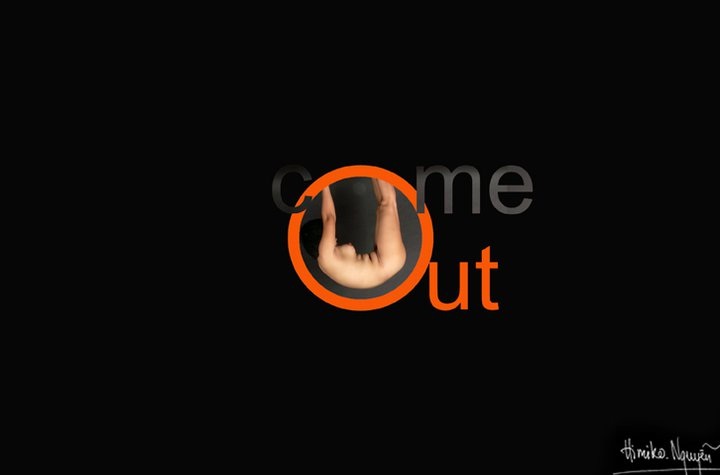 2011
Photos in wooden lighted boxes
Installation of 18 photos in 18 black boxes
Photos: 20 cm x 30 cm (each)
Wooden boxes: 40 cm x 60 cm (each)

It started from Closer (2006) when Himiko Nguyen could not exhibit her nude photograph exhibition due to strict censorship on nudity especially female bodies. Come Out I hides photographs of Himiko capturing herself naked in black wooden boxes and demands the viewers to come closer to be able to see the photos through a hole. The photographs show Himiko in various position and emotion, mostly depicted herself in meditation or playful joy. Even though the public may see the nude images, it is almost impossible to recapture them thus they do not explicitly violate the moral code of censoring law. Come Out I becomes a strategic provocation to showcase sensitive content to the public and at the same time subtly teases the license system to exhibit art in Vietnam.
'Today, queer cultural production is much more visible in Vietnam's public sphere, and Vietnamese artists have continued to foster awareness of LGBT issues through their work. The multidisciplinary artist Himiko Nguyen's 2011 photography installation, Come Out, aimed to counteract what she sees as public ignorance on gender and sexuality issues. Himiko laments the unwritten rules and constraints that she finds in Vietnamese society. Her comments indicate a thoughtful understanding on how ideology is implemented through national education and how it is naturalised by the general population. In a country where naked people cannot be shown in the media, Himiko admits that she chose nudes to push up against these ingrained boundaries.' (Cristina Nualart)